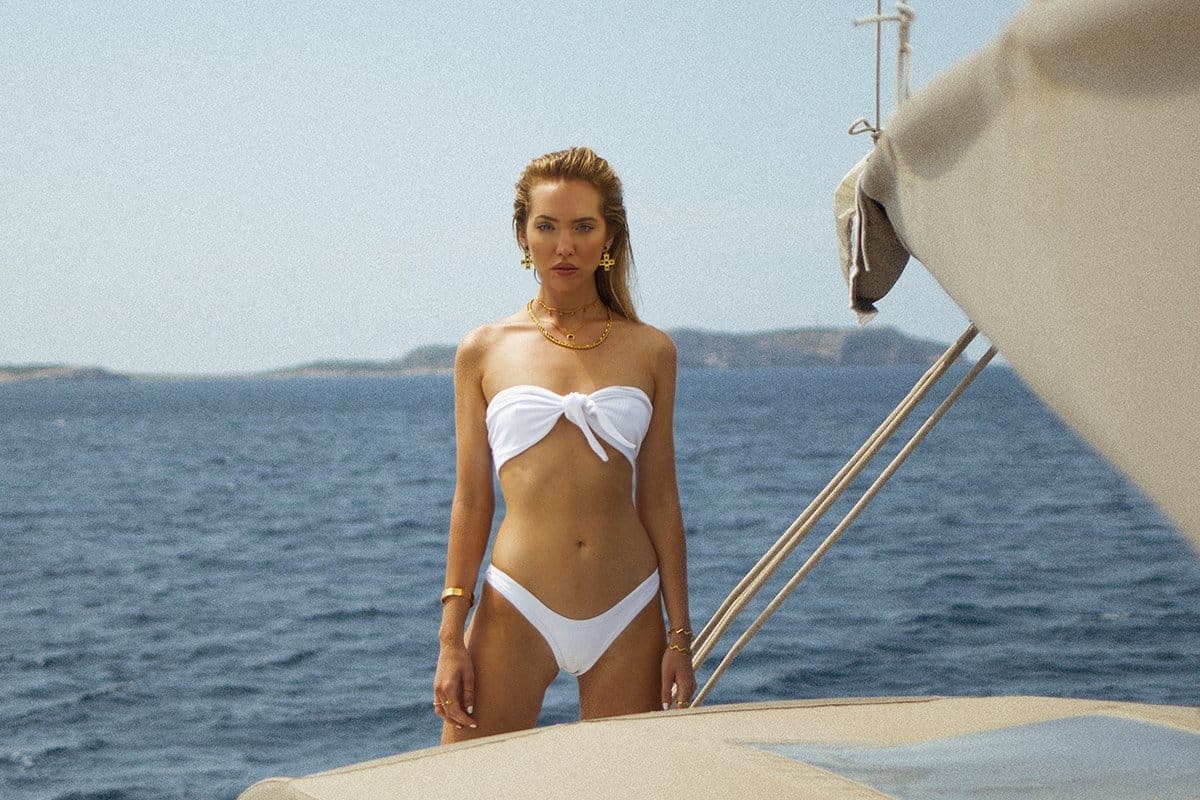 Some essential coastal destinations (at home)
Sea, saltpeter and nothing else. Shall we travel? Make a note of these addresses for a summer in which inland tourism is a (compulsory) pleasure
It's still not very clear what can and can't be done this summer, but the high temperatures lead us to think (inevitably) about places bathed by the sea. If we're allowed to travel, we have a list of the most incredible coastal landscapes in our country, the best spots to debut your Ônne Swimwear bikini. Are any of them on your wishlist?
Menorca
Anyone who knows Menorca falls head over heels for its sunsets, its white sandy beaches embraced by crystal clear waters. Also for its genuine Balearic gastronomy. It's the quietest island in the Mediterranean and many of its coves are almost inhospitable even nowadays. We recommend you explore it in unusual natural places, like Algaiarens cove, in the north of the island, very close to Ciutadella, and also Morell cove, in the Camí de Cavalls municipality.
Where to eat: Torralbenc (Ctra. Mao, Cala Porter Km.10)
Where to sleep: Cugó (Cami Forana, 236)
Zarautz 
In Zarautz the sun doesn't always shine and temperatures almost never reach 30 degrees, maybe that's the reason for its peculiar charm. Zarautz beach is the longest in the Basque Country and one of the longest on the Cantabrian sea, giving it the nickname of "Queen of the Beaches". Dunes, marshes, cliffs... it has everything (surf aside!).
Where to eat: Otzarreta (Calle de Santa Clara, 5)
Where to sleep: Akelarre (Padre Orkolaga Ibilbidea, 56)
Jávea
Set among small mountains, and with the sea always present in the background, Jávea is the prettiest pearl on the Alicante coast. The cove of Portitxol or Barraca, with its unique fishermen's houses, white facades and blue painted doors, is a must. Just don't leave your beach sandals behind, please.
Where to eat: BonAmb (Calle Benitachell, 100)
Where to sleep: The Adelante House (Calle Lluca, 41)
Ribadeo 
You can't talk about Ribadeo without automatically visualizing what is, undoubtedly, its greatest tourist attraction, the Natural Monument of Augas Santas beach, known as Catedrais. This imposing beach with incredible rock arches still holds many secrets. Its remarkable labyrinth of rock formations attracts hundreds of visitors every year. Are you up for discovering it?
Where to eat: Pulpería A menchina (Rúa Amando Pérez, 4)
Where to sleep: Hotel Palacete Peñalba (Calle Granada, 33794)