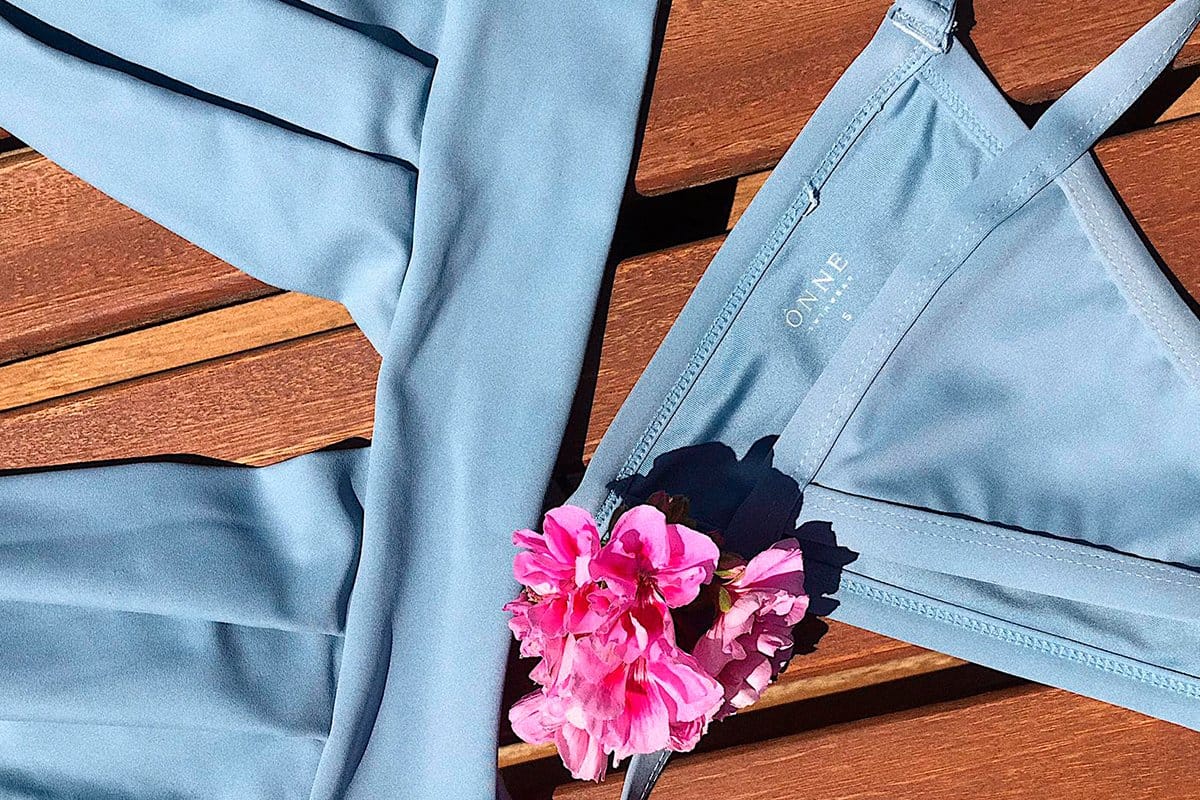 Your ÔNNE swimsuit always perfect
If you've fallen in love with your Ônne swimsuit this summer, and you want it to last forever, we're going to give you a few tips for summers to come... So you can continue buying and taking care of your next Ônne swimsuits!
We give you 10 tips on how to take care of your swimwear so it doesn't deteriorate quicker than expected, has a longer lifespan and lasts summer after summer.
1.Chlorine, a lethal enemy.
Chlorinated water is the number one enemy of stretch clothing. There are areas of your body where your swimsuit isn't in full contact with your skin, that's where the water circulates more and weakens the fabric until it loses its performance. As well as weakening elastic, chlorine makes colors fade. So the rescue operation for your swimwear really has to start as soon as you get out of the water and it's a race against the clock. After each use it must be rinsed with fresh water to remove chlorine particles.
2. Washing, with or without soap?
If you've only used your swimsuit for swimming, rinsing it with tap water is enough. If you've spent the whole day on and off your towel, rinsing will not be enough, you need to wash it with neutral soap.
3. Washing machine, yes; tumble dryer and fabric softener, never.
Your swimwear can be washed by hand or in the washing machine. Select a delicate program and no fabric softener because it also devours stretch fabrics.
4. Keep sun creams at bay.
Do your elastics perish quicker than you might expect? See if you accidentally rub your swimsuit when you put on your sunscreen. Or even worse, you wipe the cream off your hands onto your swimsuit. That is why it's really important to wash the product properly before storing it, if you don't do this correctly, this would explain the perished elastic the following year.
5. Dry in the shade.
Believe it or not, the sun is stretch fabric's sworn enemy. You don't have to lie under your parasol all day, but you should avoid drying your swimsuit after wearing it out in the sun, which is also a serious enemy of color and will gradually fade it.
6. Never in a plastic bag.
Yes, we know, it's a hassle putting soaked swimwear into your bag or basket. The temptation to put it in a plastic bag is huge. But you can use a watertight compartment if you're only going to carry it home like that. If you're going to take longer, it's best to squeeze it well and wrap it in your towel. Under no circumstances should you put a wet swimsuit in a plastic bag and leave it inside the car in the full sun. It cooks!
7. Avoid spin dryers.
We know it's magic: you put in your dripping swimsuit straight out of the pool and in ten seconds they give it back to you dry... and worn out. If the tumble dryer isn't good, neither are the spin dryers. They shorten the life of the fabric.
8. Careful with the spa.
Urban spas, with their hot chlorinated water and well-loaded with fungicides, do not do your swimwear any good. So, put on the oldest swimsuit in your wardrobe so as not to spoil it or when you finish, wash it well following the advice we've given you so far.
9. Seaside vacations.
Sea salt is not as aggressive as chlorine, but it's also advisable to rinse clothes with fresh water as soon as possible after a swim in the waves.
10. Enjoy and ensure your Ônne has a long life!